Blackboard Learning Guide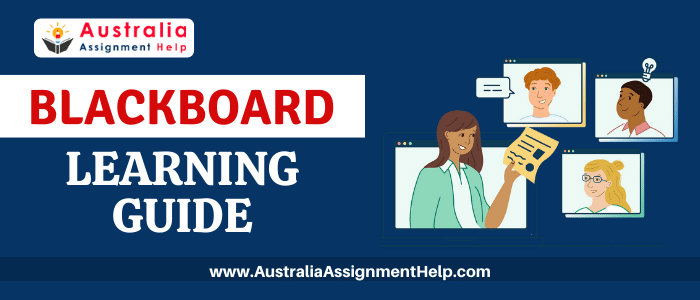 Due to covid-19 various educational institutions in Australia have started opting for online learning. The blackboard learning guide is also used by the students pursuing distance learning programs. A learning management system, Blackboard has changes how teachers are teaching and students are learning. In this Blackboard learning guide for students, we will discuss many things about blackboard like importance, benefits, login process, and more.
Stuck with a lot of homework assignments and feeling stressed ? Take professional academic assistance & Get 100% Plagiarism free papers
Defining Blackboard
Blackboard is an online learning management system (LMS) used by various universities in Australia. It is a common platform for the students and teachers where they can interact, share ideas, share informative content, blackboard collaborate with others, and lots more.
This learning management system enables students to collect and submit university assessments. On the basis of these assessments, students can get feedback, and grades online. Students can take online assignment help from Australia assignment help to score good grades and grow their academic graph.
Students can participate in surveys that are posted by the faculty confidentially. These academic surveys help the teacher to improve the teaching methodology and process.
Stuck with a lot of homework assignments and feeling stressed ? Take professional academic assistance & Get 100% Plagiarism free papers
Importance of Blackboard
Blackboard is important for the students in various aspects such as they can have streamlined communication with students and faculty. Through these communications, students can either ask questions, unit doubts, join a discussion, and more. This Blackboard guide for beginners will help you with a lot of information.
The Blackboard system automatically maintains course enrollments online. The content of the blackboard is managed by the faculty.
Benefits of Blackboard
Streamlined communication between students and faculty
Faculty can embed interactive videos, websites, and assessments.
 content can be accessed from anywhere at any time.
Files can be shared easily
Central location for students and teachers
Library service
Handy on mobile
Blackboard Learning process 
It is important for every student to learn blackboard. Students seek help with the uni blackboard guide. Therefore, we are discussing the stepwise learning process of Blackboard.
The student needs to enroll in the course.
Visit the web portal of the respective university and register.
You will set a username and password, which will help in logging blackboard.
Buy high-quality essays & assignment writing as per particular university, high school or college for Australian student
Login process of Blackboard
Blackboard login is very simple and can be accessed through a computer or mobile. You need to have your university username and password to login successfully.
 To log in through a computer: Open your web browser > insert link of the university web portal > Fill the fields with login credentials > enjoy the features of blackboard
To log in through a mobile: Open app store or play store on your mobile > search of either blackboard app or university app > select university name > enter login credentials > tap login button > enjoy features of blackboard on mobile.
Feature of Blackboard
Discussion board
Discussion board enable the students to share their ideas, join or start a discussion, This helps the students actively participate in the learning process. Students can take advantage of this feature to clear their doubt or seek help from fellow students or teachers.
Course content
This section allows students several tools to write in the content box. Format accordingly, insert an image, upload a file, and many more tools. Students can upload word files or ppt files in the content. They can collect or submit assignments. Students take assessment help to complete their university homework on time from the experts.
Grade Center
Grade centre can be accessed to check your academic grades. Students can check grades of their previous assessments and recent submission. This helps them to stay focused and work accordingly to grow their academic graph. Students can pay for assessment solutions in order to score better marks easily.
List of University blackboard guide
We have blackboard guides from several universities in Australia. This will help students to learn about the University blackboard.
Stuck with a lot of homework assignments and feeling stressed ? Take professional academic assistance & Get 100% Plagiarism free papers
Best University assignment help in Australia
Australia assignment help provides students with many types of assignment writing services. We give university assessment help for all universities in Australia. Students can buy assignments online and submit them on time. So, hire an assessment helper with exciting offers and allow us to complete your work on time.
Conclusion
In conclusion, Blackboard has helped the students in many ways. for instance, they can check their grades at any time from anywhere, check academic announcements and notifications, course outlines, and many more. Therefore, This is really a new way of learning and will surely benefit more in the future.
FAQ
Q1. I am facing a problem with login, how can I get help?
Ans. You can reach the help and support center of your university on blackboard. Just head to the IT department and ask you for blackboard help from any staff help.
Q2. What is a Learning management system?
Ans. A learning management system is a software application through which the student gets benefits. Students can access the course and academic information, with other features as discussed above in this article.
Q3. Do I have to submit an assessment on blackboard who can help?
Ans. We can help you with completing an online assessment. Students can take any type of academic assistance from us like essay writing, dissertation help, etc.