University of Queensland Blackboard Guide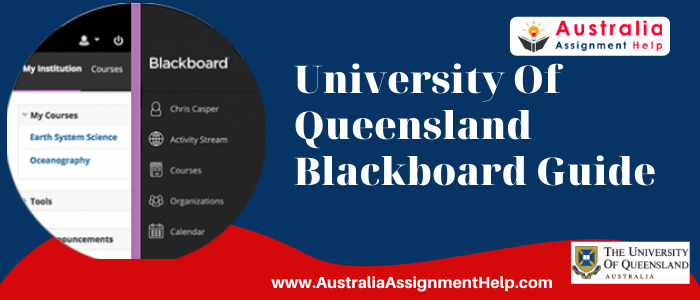 UQ blackboard or University of Queensland blackboard is an online learning management system of the University of Queensland.  It provides a common platform to students and teachers where they can interact, share ideas, join a discussion, and access academic information.
Buy high-quality essays & assignment writing as per particular university, high school or college for Australian student
The University of Queensland blackboard is also called Learn.UQ. Students can easily access course content, post discussions, look at their grades, view announcements, and more.
Blackboard provides a one-stop for students and faculty to have confidential interaction. Students can collaborate with other students, discuss new ideas or information, They can meet live virtually in the Blackboard space.
Importance of UQ blackboard
The blackboard of UQ is a learning tool for the students. They can easily enhance their learning by using various features of Blackboard. It has the potential to change the way how the students can learn and teachers can teach. Learn.UQ is a highly interactive medium through the students can learn and customize the studies as per their needs.
Students have the access to learn from anywhere at any time. So, it's like having whole academic information in your hand. Blackboard acts as an assessment helper for the students.
There are many tools on the blackboard that the students can use for studies, reading, interaction, and collaboration.
Benefits of University of Queensland blackboard
streamlined communication
one place for students and faculty
access from anywhere at any time
course material, recordings, and lectures
announcements
files sharing is easy
collect and submit for assessments
confidential conversations
lecture slide
collaboration tools
UQ blackboard Learning process 
We have discussed the importance and benefits of the UQ blackboard above. We will now discuss the blackboard guide for Aussies that how you can get access to the features. Follow this stepwise guide to the UQ blackboard.
New students are required to be enrolled in the class.
Visit learn.uq.edu.au in your web browser
 You will need your UQ username and password to log in and enjoy the features of Blackboard.
Login process of UQ blackboard
We will now discuss the stepwise guide to login to UQ blackboard. You can either log in to it from your computer or from your mobile phone.
To log in from your computer: Open your web browser > visit Learn.uq (if your username starts with 'nk_' then visit learn.uq.edu.au > fill the fields with your username and ID > click login button > enjoy features
To log in from mobile: Open play store or app store > search blackboard app > after downloading it click on the University of Queensland > you'll be redirected to login page > fill your credentials > tap login button > enjoy the blackboard features on your phone.
Stuck with a lot of homework assignments and feeling stressed ? Take professional academic assistance & Get 100% Plagiarism free papers
What you can expect after the login?
course outline
academic information
on-campus faculty information
collaborative tools
interactive tools like the discussion board
file sharing
personalized study plan
Features of Learn UQ 
Discussion board
Students get this feature where they can communicate and interact with their classmates and faculty. They can share ideas, thoughts, or can ask any doubts.
Grade center 
The grade center helps the students to see their grades anytime from anywhere. They can keep the track of their performance and work accordingly to achieve their academic goals.
Help and support
If students are stuck and are not able to login or use any features of the blackboard. they can seek help from the University of Queensland from the support team. The contact details are mentioned below.
Phone: (07) 3365 6000
Email: help@its.uq.edu.au
We have a blackboard guide for all universities. Students can check them too.
Stuck with a lot of homework assignments and feeling stressed ? Take professional academic assistance & Get 100% Plagiarism free papers
About the University of Queensland (UQ)
The University of Queensland was founded in 1909 by the Queensland Parliament. UQ is a prestigious institution and is one of the oldest universities
in Australia. It was ranked 35th in the world by US news global ranking. 46th by QS world university ranking and among the top 1% universities in the world.  The main campus of UQ is located in the suburb of Brisbane, Queensland with various campuses at different locations in Queensland.  There are lots of researcher, scholars, sportsmen graduated from the University of Queensland (UQ).
The University of Queensland was founded by the Queensland parliament in 1909. It is of the oldest Australian universities. Ranked among the top universities worldwide, it offers many courses in different fields. The university also focuses on research projects. It is located in Brisbane, Australia.
Get UQ assignment help from the experts
University of Queensland assignment help is popular among the students. They seek help in writing university assignments from us. Students pay for online assignment help and receive our expert's assistance. We provide plagiarism-free assignments and complimentary proofreading services assignments. Australia assignment help is one of the best-rated assessment helpers in Australia.
Conclusion
In conclusion, UQ Blackboard has made the life of the students easy. It helps them to keep track of their grades and course information.